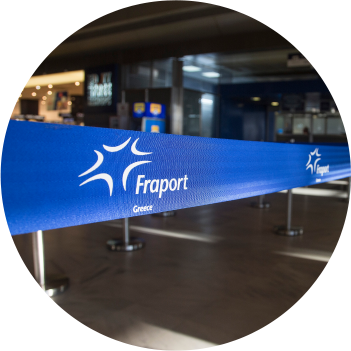 ESA renews its valued partnership with FRAPORT GREECE
ESA and Fraport Greece have renewed their successful partnership, which began in 2017, following a new international tendering process that ended in April 2022. For the past five years, ESA has provided integrated security services to air carriers in Fraport's Cluster A, providing 7 airports with 700 security inspectors.
More specifically, at 7 of Fraport's airports in Thessaloniki, Kavala, Corfu, Aktio, Cephalonia, Zakynthos, and Chania, ESA ensures:
Access control and screening of people and hand luggage
Screening of luggage with the use of hight-tech CT scanners, specially designed for security checks
Checks on cargo and post and supplies to flights and airports
Security checks and access control at airport facilities
Vehicle and foot patrols of exterior and interior areas and of airport facilities.
The long-term partnership between ESA and Fraport Greece is based both on the trust created between the two companies and ESA's continuous commitment to improving the services it provides and upgrade the technological infrastructure. As part of this, we continually invest in staff training while incorporating advanced security solutions into our operations, such as innovative X-ray security check simulation platforms (Simfox) and individualised staff compliance evaluation (OpeReady).
At the same time, we remain fully compliant with international, European, and national regulations, applying the highest standards of quality control when implementing airport security procedures.
This partnership means that we are operationally supporting the steady growth of the country's international airports, actively contributing to the improvement of services in international tourism in Greece.
We thank Fraport for its continued trust in our partnership.